A monotype drawing or print is a unique image, printed on glass, plexi-glass, metal or card. It cannot be repeated.
It is a quick and relatively easy way of creating a fine line print with characteristic fuzzy edges. This method is very accessible for people wanting to try printmaking.
Paul Klee is among the internationally acclaimed artists to have used monotype drawing.
In this monograph, monotype drawing and a negative print from the image will be explained.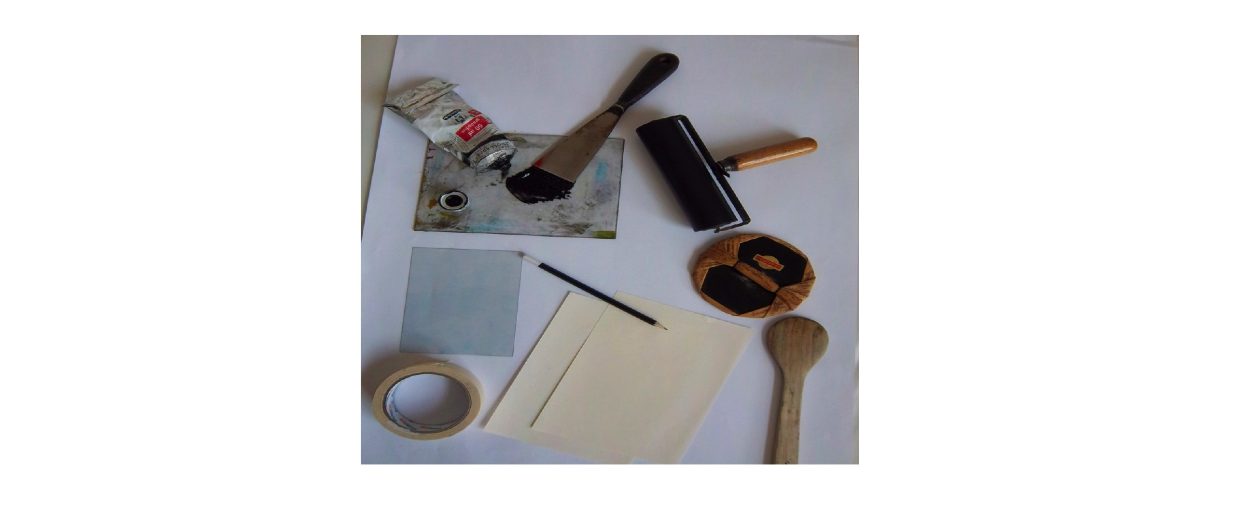 Materials
Plate of plexi-glass, rhenalon, metal, card or glass
Roller for covering the plate with ink
Ink – water based or oil based. To prevent the water based inks from drying out too quickly a couple of drops of washing up liquid or acrylic retardant can be added.
Light paper (70gms)
Spoon or 'baren' for burnishing (negative method)
Pencil or other materials for the lines – card, comb, sticks of wood etc
Masking tape
1. Positive Monotype drawing
The plate is rolled with a thin layer of ink, taking care to spread it evenly.
The plate is placed inked side up onto the registration paper (paper the same size as the one to be printed)
The drawing will be a MIRROR IMAGE of the original.
The paper for printing is laid over the inked plate.
To ensure the paper does not move while drawing – tape two sides with masking tape.
This can be lifted during the drawing process to check on the required image.
Carefully draw either free hand or through tracing paper onto the paper. (Reverse the tracing paper if a mirror image is not required i.e. for text)
Remove the drawing. Leave the plate for the second stage. (Negative Monotype)

2. Negative Monotype (from the Monotype drawing)
Place a paper over the inked plate which is left from the first process.
Tape down with masking tape on two sides of the paper.
Carefully "burnish" the paper to pick up the ink with a wooden spoon or "baren" using small circular movements on the back of the paper to be printed. (Baren is a traditional Japanese round pad used for relief printing)
The harder the pressure the more ink will be picked up. This will be the negative of the previous print in stage 1. A further print can be taken but will be very faint known as a "ghost print".